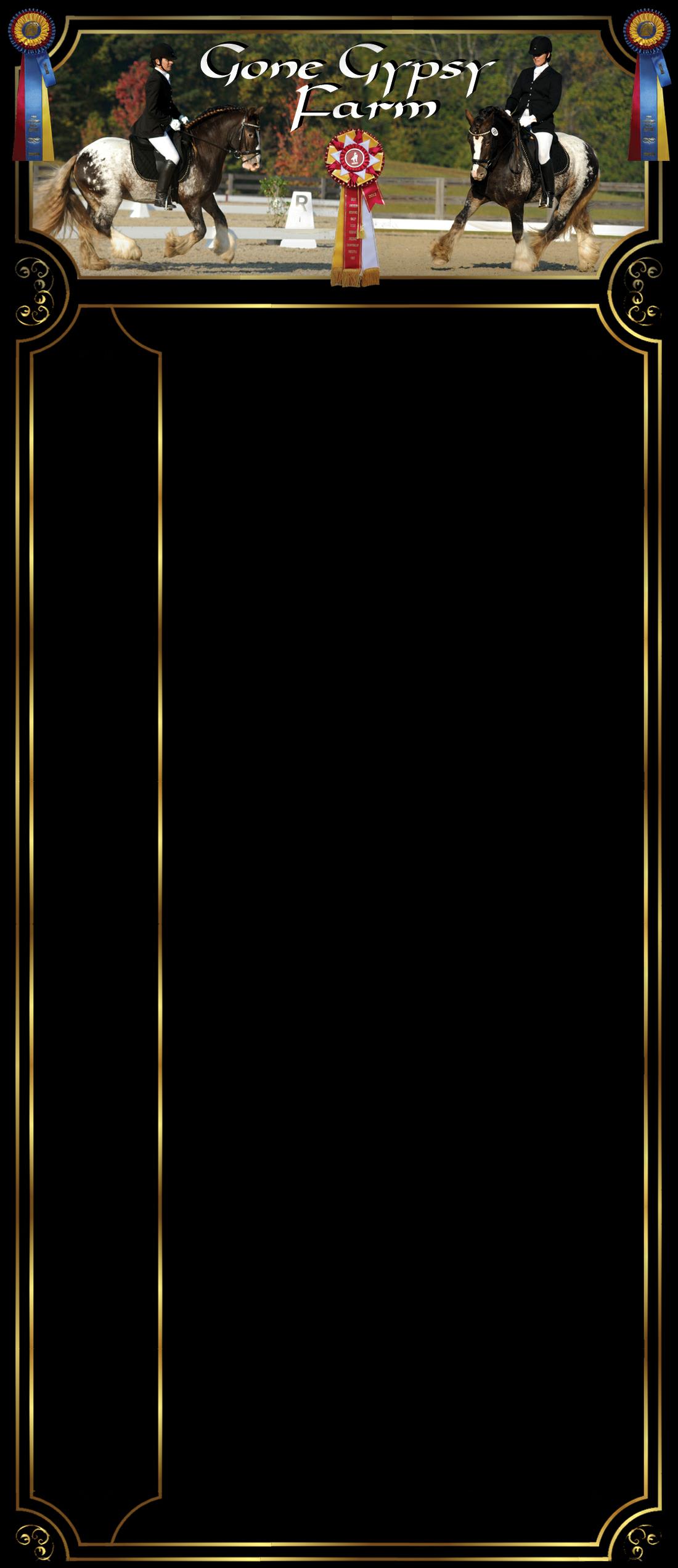 INDIGO'S ROYAL KNIGHT

2002 Black/White Spotted w/ Blanket Gypsy Stallion

15H

PSSM1 NEGATIVE

Homozygous For Black   -   Proven with 27 Offspring

Registration # GHA00359

USDF & USEF Member

First and foremost I must say that we here at Gone Gypsy Farm are blessed to have the opportunity to share our lives with such a wonderful stallion.  Indigo not only is a dream to be around, he passes along his quiet demeanor to his offspring. 

Indigo's dam, Isabeau, is a piebald black and white mare, who stands 15H tall.

Indigo's lines, those of the app-spotted gypsies are as old as the breed itself, but are quite rare these days.  25-30 years ago, this coat pattern was not that uncommon, but it has died out because of the popularity of the pinto patterns in recent years. 

Indigo is obviously from one of these old lines.

Indigo stands 15H, and is athletically built.  His mane, tail, and feather are extremely heavy and thick.  He has a neck that is set just the way you want it, a gorgeous shoulder, show-ring legs, and a perfectly chisled head.  He naturally collects himself while floating along the ground.   Indigo is currently in dressage training and his trainer is amazed at how willing, fluid, and accepting he is to new things.

On top of Indigo's natural athletic ability, his personality makes him an asset to our breeding program.  He is well mannered, easy to handle, and responsive. 

Indigo has sired 35 foals to date.  20 gypsy fillies, 5 half gypsy fillies, 6 gypsy colts and 4 half gypsy colts. He is a very generous stallion, adding hair, feather, athleticism, and not to mention personalities that are kind, willing and gentle.

To date Indigo has sired 25 foals. 

25 of them being FILLIES (72%)

26 HAVE SPOTS/ROANING (73%)

Indigo is only available to 3 Gypsy mares in 2015. 

His stud fee for 2015 is $2500.00 which includes a $250.00 Booking Fee & Collection.

LIVE COVER, COOLED, OR FROZEN SEMEN AVAILABLE 

Indigo is STANDING AT STUD

in

Belton, TX at Aisling Ranch.

2015

LAST YEAR STANDING AT STUD TO THE PUBLIC

Terri Yates & Joe Russell

Oxford, Florida

352-427-7297

This page was last updated: February 26, 2015