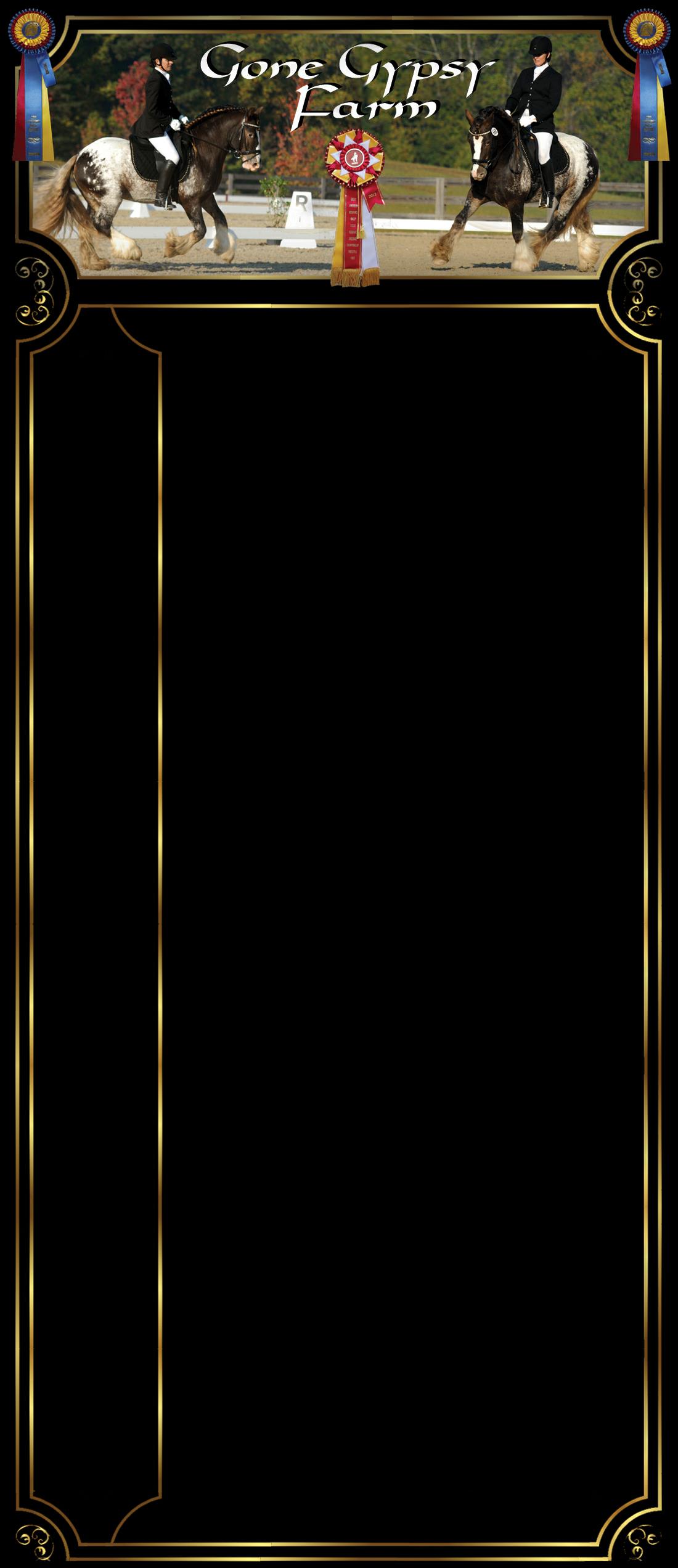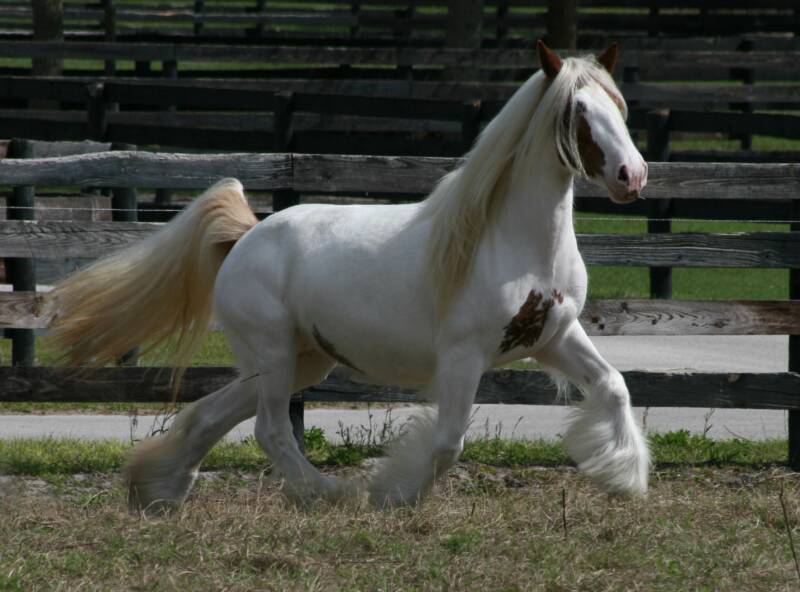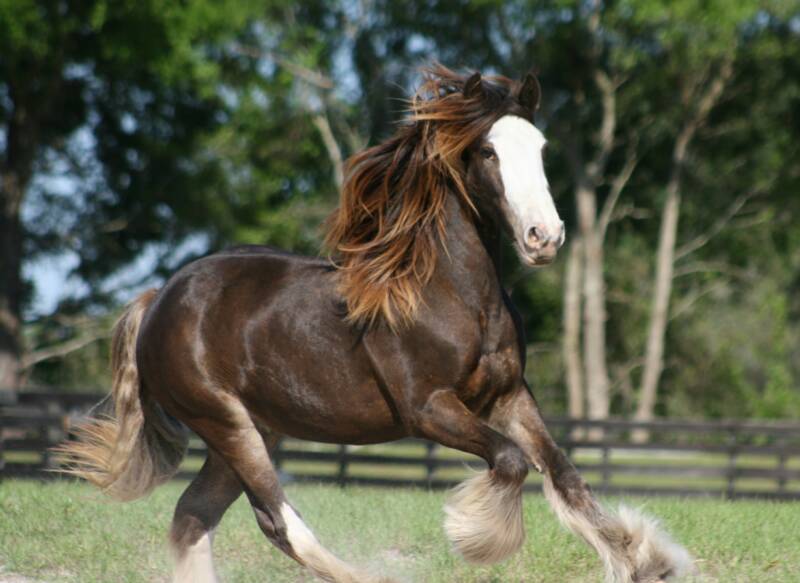 MADISON

2006 Red and White

Medicine Hat Mare

Sire:  The Wooley Mammoth

Dam:  Matti

(Daughter of Martha & Chief)

Black - ee  Tobiano - TO/tO   

Indigo's Royal Knight

2002 B/W Spotted w/blanket Gypsy Stallion

Sire:  Foundation

Dam:  Isabeau

Red/Black - EE

INDIGO'S ROYAL ASHLYN

" Ashyln "

2009 Black Blagdon Filly

Sire: Indigo

Dam:  L.J.

Black - EE   Agouti - aa

FIONAN OF ROSCREIGH

" Finn "

2009 Grey/White Tobiano Stallion

Sired:  Dunbrody

Dam:  Dunluce

(Henry Conners Lines)

DNA:  EE - Gg - Tt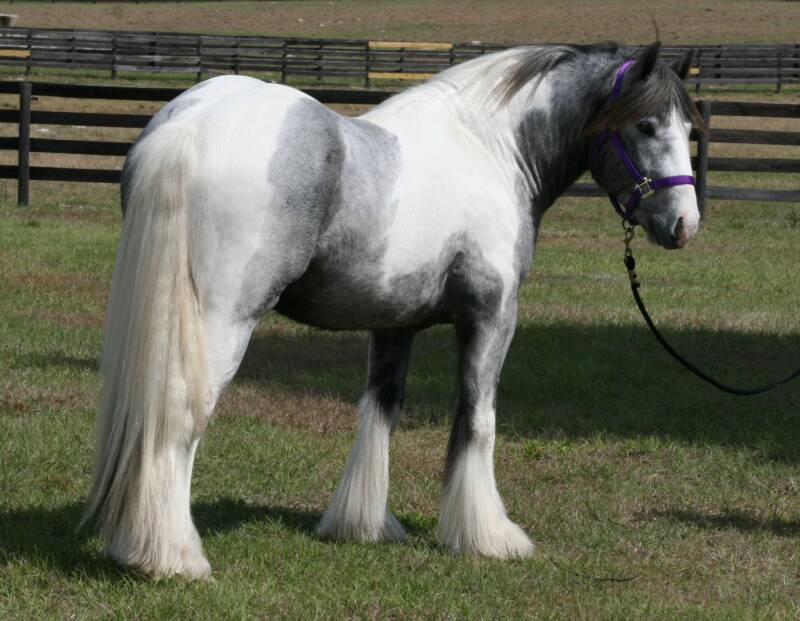 Midknight's Finlyn

" TINK "

Black Spotted Filly

with Blanket

D.O.B. April 8, 2012

Born at exactly midnight on Easter morning, Tink surprised us all.  We were sure all that rucus going on in Madison's belly was from a strapping colt, wow were we shocked when this beautiful filly joined us in this world.  Tink is a well built filly, solid in every way.  Hair, feathered, confirmation, fearless, and on top of it all she carries the LP1.  She has a perfectly patterned white blanket with 4 white stockings.

  Keep an eye on this little one, she is a LOOKER !

Indigo's Royal Majesty

" R.J. "

Black Colt with Chrome

D.O.B. May 1, 2012

R.J. is one of those colts who will make his mark in the gypsy world.  Sired by none other than our Indigo, we truly believe R.J. will follow in his fathers footsteps.  R.J. was born with impeccable comformation, 3 inches of mane and almost 2 inches of feather, just imagine what he will have when he grows up.  He has 3 high white stockings, a black mane, and a black tail with frosting.  Not only that, he has incredibly long legs, we believe he will mature to atleast 15H.  If you are looking for a herd sire to add athleticism to your herd and a SHOW STALLION, here he is.   R.J. is currently offered for sale.

Terri Yates & Joe Russell

Oxford, Florida

352-427-7297

This page was last updated: April 15, 2013